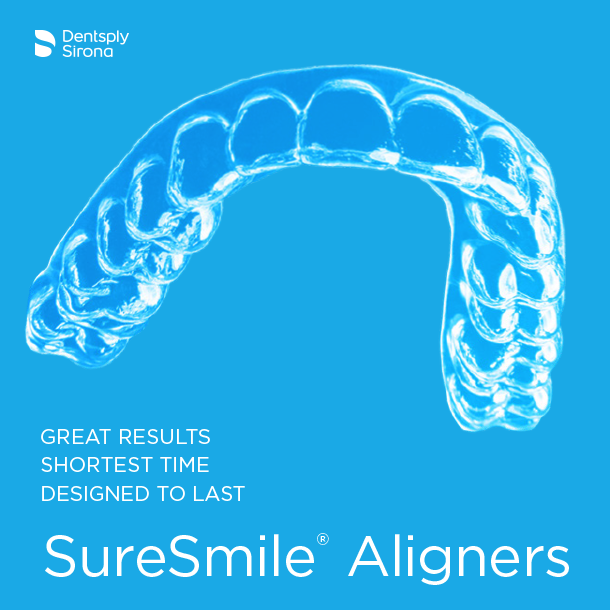 Clear aligners are a wonderful alternative to the metal hardware and wires of conventional orthodontic treatment with braces. There are many competitive brands of clear aligners. SureSmile is a leading aligner brand with excellent clinical results. Adults and teens love the look and comfortable, clean fit of  clear and  plastic aligners. Most aligner patients have been through orthodontic treatment before and have had some relapse of tooth crowding or spacing due to not being able to wear their retainers.
What do they do and how do they work?
Clear aligners are custom fabricated trays worn over the upper and lower teeth for about 22 hours each day. They are taken out only to eat, brush, and floss. The process begins with a complimentary aligner consultation where we will evaluate your smile and the changes that you wish to make to it.
Scans or impressions are taken of your teeth along with digital photographs. After a discussion of your goals, your dentist coordinates a treatment plan with the aligner manufacturer to move the teeth into the proper or desired position. A virtual mockup is created of the desired outcome. Based on this virtual mockup we can estimate how many sets of aligners it will take to create the necessary tooth movements. The aligners are then fabricated and delivered. The average aligner case can take anywhere from 6 months to 18 months depending on the complexity of the movement. Most cases are simple corrections of rotated teeth, spaces , and crowding lasting about 6-12 months.
At the completion of treatment we will fabricate clear retainers from 3D printed models.
Examples of some of our clear aligner Cases:
Crowding and malalignment
Contact us to set up an aligner consultation. Aligner treatment is more affordable than you think. You may even have an orthodontic benefit in your insurance plan. Ask us about third party financing.