What causes white spots?
A common cause of white spots is dental fluorosis, which occurs when too much fluoride is consumed. This typically happens when the teeth are forming as a child and before teeth break through the surface of the gums. Enamel hypoplasia is another condition which occurs while teeth are still developing, and results in thin enamel.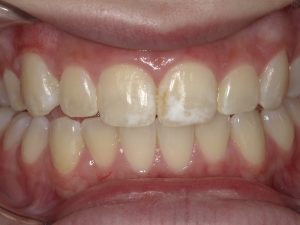 Poor oral hygiene or frequent exposure to acidic drinks such as soda or energy drinks can also cause white spots. We often see areas like this after braces are removed from difficulty cleaning around brackets during treatment.
How do we treat it?
We use a simple process called ICON resin infiltration. Resin infiltration is a minimally invasive restorative treatment for white spot lesions and certain congenital hypocalcified enamel lesions. The treatment does not require any "drilling" or "numbing" of the teeth. It is a great option for patients looking to improve the look of their smile, without more involved treatment to the teeth, such as veneers or fillings.
Watch a demonstration of the process below:
This procedure is completed in just one appointment in our office and delivers dramatic results. This treatment is ideal for adults and children of all ages who currently have white spots on their teeth.
To learn if you are a good candidate for white spot masking, schedule a consultation with Chery Valley Dental, your local Duvall cosmetic dentist.
Check out our Smile Gallery to see examples of smiles we've created.